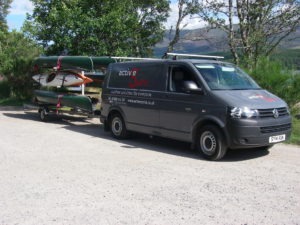 About Tracey and Ian
It was our passion for the dramatic scenery, wildlife and hillwalking that brought us to the Highlands 32 years ago. Since then we have walked, climbed, canoed and mountain biked throughout Scotland.
We are married and have done everything together since we met in our teens!
People often ask us what we do on our days off – our answer being that we are outside as much as possible exploring the Highlands on foot, bike or by canoe and often camping. We do not need to be doing something exciting or high, just being out there whatever the weather is when we are at our happiest.
We love helping people to get the most out of the activity they have chosen to do with us and will do everything possible to make you feel comfortable and relaxed. We are really flexible with timings, venues, etc to fit in with you and your needs. We also plan the activity to suit your ability, fitness, experience and aspirations.
We have a real passion and enthusiasm for the outdoor environment and love sharing this with folk in a safe and environmentally friendly way.